Earlier this summer I posted on social media that I wanted to take a random road trip. I said I had no particular destination in mind. I just wanted it to be random. My amazing friend Sharde inboxed me and said that she was road tripping to Atlanta for a family all white party, and I could come along. The icing on the cake was that she said we can add NOLA as one of our stops. Say no more lol. I headed down to Houston to meet up with Sharde and we set off for NOLA.
Sharde booked the cutest Air BnB for us that was located just across the street from a BBQ place called The Joint. We all (myself, Sharde and her mom who was also on the trip with us) agreed that we would book this place again for our next trip to NOLA.
We arrived really late Thursday evening (well technically really early Friday morning) but we didn't let that stop us from hitting up Bourbon St. We ended up at Spirits on Bourbon which was featured on the show Bar Rescue. I tried to Barber Beer and despite the color, it brings back nostalgic memories of your favorite root beer growing up (just an alcohol version this time).
After a good nights sleep we woke up refreshed and ready for a good breakfast. Our search lead us to the New Orleans Cake Cafe & Bakery. This cute little bakery had great breakfast and was very budget friendly. Cupcakes are only $1 with the purchase of a meal. The cupcake was a bit thick and dry for my taste, but my breakfast food was really good. I got the catfish with eggs and toast. They make their own mixed berry jelly in house.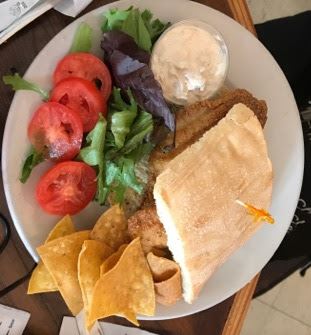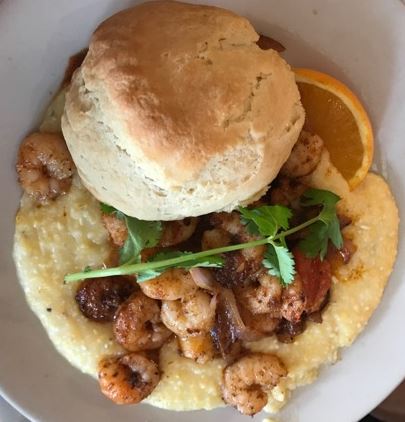 Two treats you usually associate with NOLA are pralines and beignets so it's only right that we headed to Loretta's where they combine them to give you the best of both worlds. Yes, that's right, praline stuffed beignets. If you've had the infamous Cafe Du Monde already, then I strongly recommend that you skip those long lines the next time and head to Loretta's to give hers a try.
After our short stay in NOLA we hit the road to head for Atlanta. Sharde's cousins were such awesome hosts. They allowed us all to stay in their home during our visit. We didn't waste any time hitting the streets after arriving. First we hit up a spot called Karma Bistro ATL. I instantly recognized this place from a previous visit to the ATL when it was The Velvet Room. Karma Bistro was having an open mic night. It was cool to see what the local Atlanta music scene had to offer. We ordered fish, wings and fries while there. I'm not a fries person, but I think they sprinkled crack on those fries because they were SO good! Check out their IG page here.
We left Karma and went to a spot called Arizona's Steakhouse. Although Arizona's is a restaurant, on Friday nights they have live music. The restaurant was a nice upscale place with calming earth tone colors. The band was setup near the bar and everyone was gathered around enjoying the band and the singer. I could see myself coming back to this spot weekly if I lived close by. You can check out Karma on their IG page here or on their website here.
Saturday was a a bit more eventful for me because my phone stopped working. Long story, I won't share now, but just know I went on a wild goose chase trying to get it fixed (after already trying 3 times in Dallas to get it fixed). All was taken care of in time to make it to the all white party. So I discovered that this party was a gathering of people originally from Detroit who have relocated to Atlanta. They get together from time to time and host meetup events. The party included food, alcohol and entertainment. Shout out to Amazon for delivering my last minute dress in time. When the dress hugs the curves and hides the belly issa yes for me.
Now when I initially had this bright idea to go on a road trip I had fond memories of riding across the country with my grandparents as a child. We would travel for youth conferences with the church on our church van. I'd ride while my grandaddy did the driving. We'd get to the hotels and grandmama and grandaddy would always let me order room service for breakfast. We'd stop at Shoney's to eat. It was awesome! I could ride on that van all day and night with no issues. Fast forward to road tripping as a 32 year old. I realized some things about myself. I'm not a kid anymore! Road tripping as a person in your 30s means, now you're the one pitching in on the driving. No more sitting back and enjoying the view while others do all of the work. Frequent stretch breaks are needed. Your joints just need to stretch out every now and then or your body will be very upset with you. Oh, and those stretch breaks double as restroom breaks because your bladder just can't hold it like it used to. Especially when you like to drink as much water as I do. You're the one now funding this road trip. Gas, accommodations, food, other things needed for travel, grandmama and grandaddy aren't taking care of that anymore. You are. It makes you think twice about what's a need and what's a want lol.
That's all for now, but be on the lookout for more about this Girl's Trip Road Trip including my visit to the Old Lady Gang Kandi Burruss new restaurant soon.....